LTN21 boundary traffic
April 2021
Notes on traffic around low-traffic neighbourhood LTN21 in West Ealing
++
I live in the middle of a new, trial low-traffic neighbourhood and I quite like it. The streets are now much quieter because there's less access to vehicles cutting through where I live to get between the surrounding A and B roads, and fewer cars means fewer accidents and increased access for bikes and pedestrians, which over time will lead to healthier lifestyles and less pollution.
However, I do understand there's many different perspectives on this, so what follows is an attempt at some objective analysis of the traffic around the area and not an attempt to invalidate anyones individual experience, good or bad.
++
Here's a map of the LTN21 perimeter, which is around 6.1km.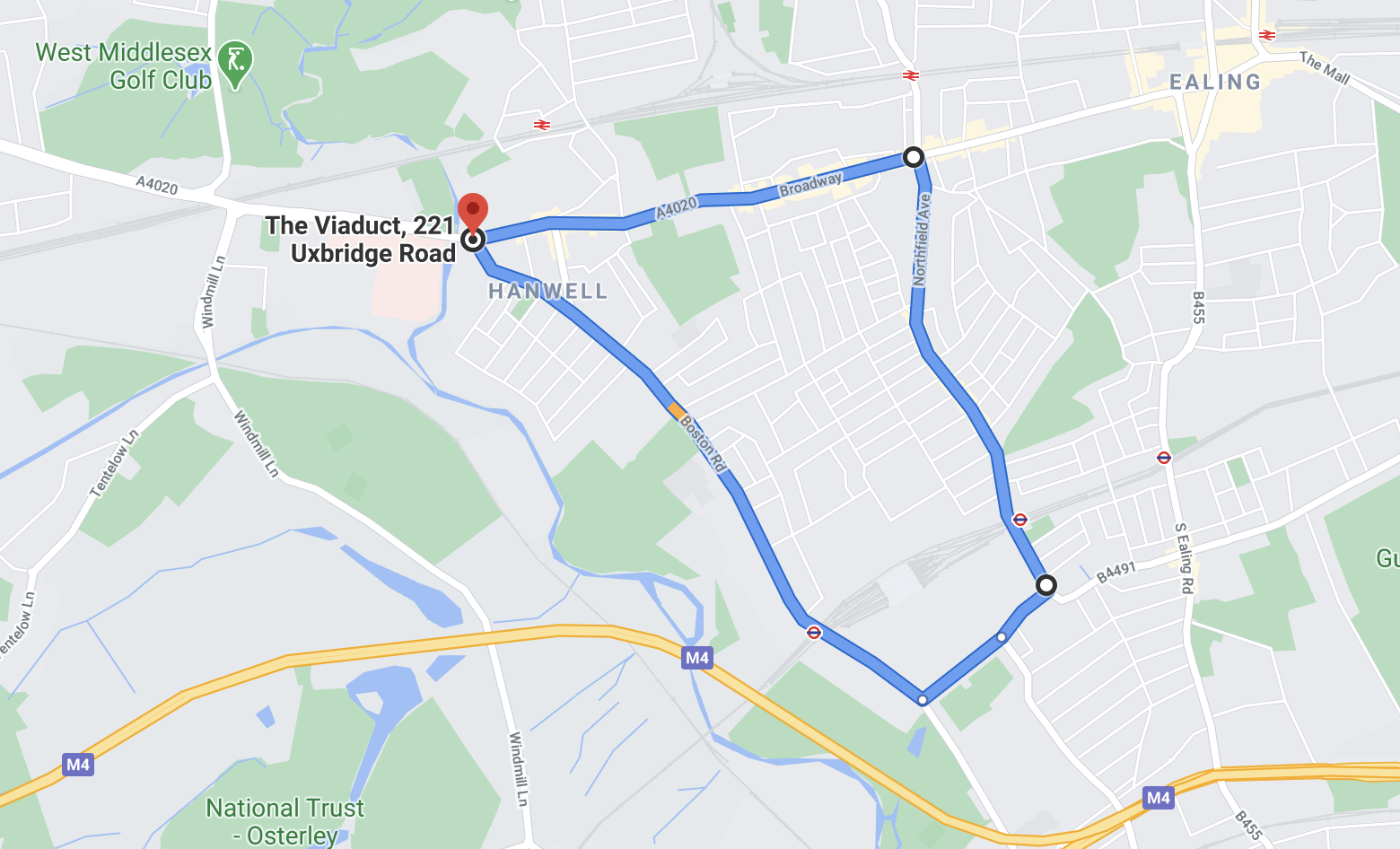 Some residents have reported an increase in traffic on the boundary roads of the LTN, in part as a consequence of the LTN itself, as you might expect. My own experience travelling around this part of West Ealing is that while getting from A to B now takes a little longer due to the LTN requiring a trip around part of the perimeter the journey times are, for the most part, reasonable and congestion free. Moreso, the longer the trip the less this matters. I drove to Sussex over the Easter weekend and the detour around the Ealing LTN represented an additional 1.3km distance to the entire 114km, 90 minute journey.
A few months ago I collected some data from a UK sat nav provider in order to help gauge how busy the typical local travel experience was. The sat nav data is a mix of historical journey times overlayed with real-time data from traffic network sensors and mobile phones.
I tracked several routes in various directions around a few of the Ealing LTNs over 4th October to 13th November 2020, which I've summarised below.
Boston Manor Rd/Boston Rd/Lower Boston Rd
Here's a graph that shows average journey time in minutes over the course of a 24 hour day driving from the bottom of Boston Manor Road (by the GlaxoSmithKline HQ) up to the top of Lower Boston Manor Road (by The Viaduct pub) along the Western boundary of LTN21.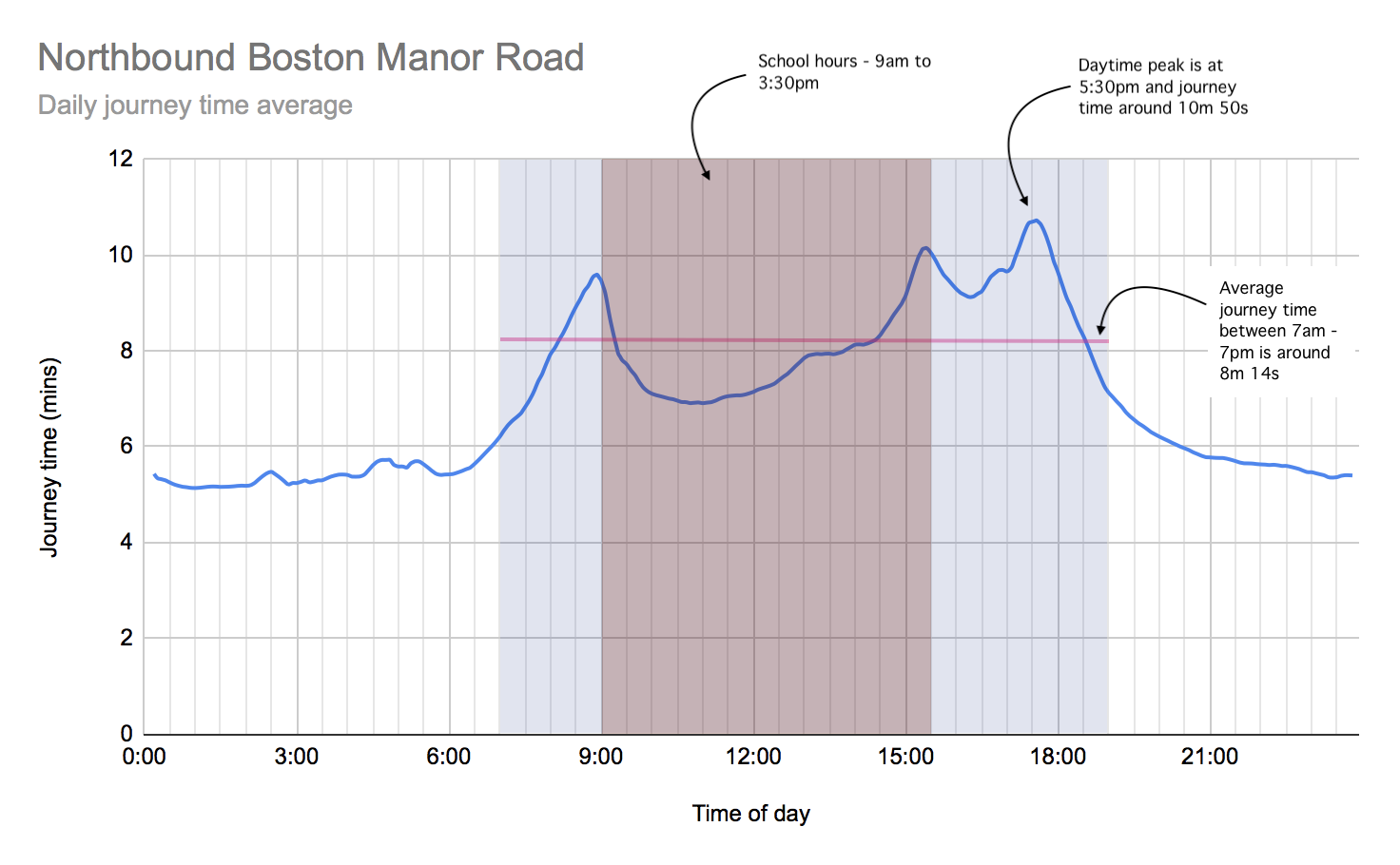 According to sat nav data collected over October 2020 the average journey time between 7am - 7pm up Boston Manor Road was about 8m 14s. The average climbs to 2-3 mins more than this during peak times, and similarly drops by a couple of minutes outside peak. The median journey time was about 7m 30s, meaning half the time car journeys were shorter than this and half were longer.
The morning and evening peaks are around the same time that schools start and end with the evening rush 'hour' lasting until just after 6pm. It's worth highlighting that daytime traffic is at its lowest during school hours, which should help alleviate some of the concerns of pollution from stationary vehicles adjacent to playgrounds and classrooms.
To help visualise what a typical journey looks like here's a sped up 8m 50s journey, a little over the average time it takes to drive up this stretch of road, but close enough.
The trip contains all the usual things you'd expect to encounter on a suburban thoroughfare. The car slows down for traffic lights, roundabouts, vehicles pulling out of side roads, and tight spots. Pedestrians taking priority on pelican and zebra crossings, busses stop in single lanes, and the car hangs back waiting for a safe space to pass bicycles. The journey is however essentially free-flowing, which it seems to be for most of the day according to the sat nav data, with an average speed of ~13 mph (or ~20 km/h).
Over the 5 week observation period there's of course outliers - the longest journey time was recorded over 30 (yes, thirty!) minutes on Thursday, 29 October at around 5:30pm due to some unknown cause. But this is atypical, something that happens a handful of times over the year, albeit something that is deeply frustrating and might lodge in one's memory more than a normal, trouble-free trip. We've all got our favourite 'nightmare' traffic jam stories.
Boston Manor Rd/Swyncombe Ave/Little Ealing Ln
The same traffic flow pattern is repeated along the Southern boundary of LTN21.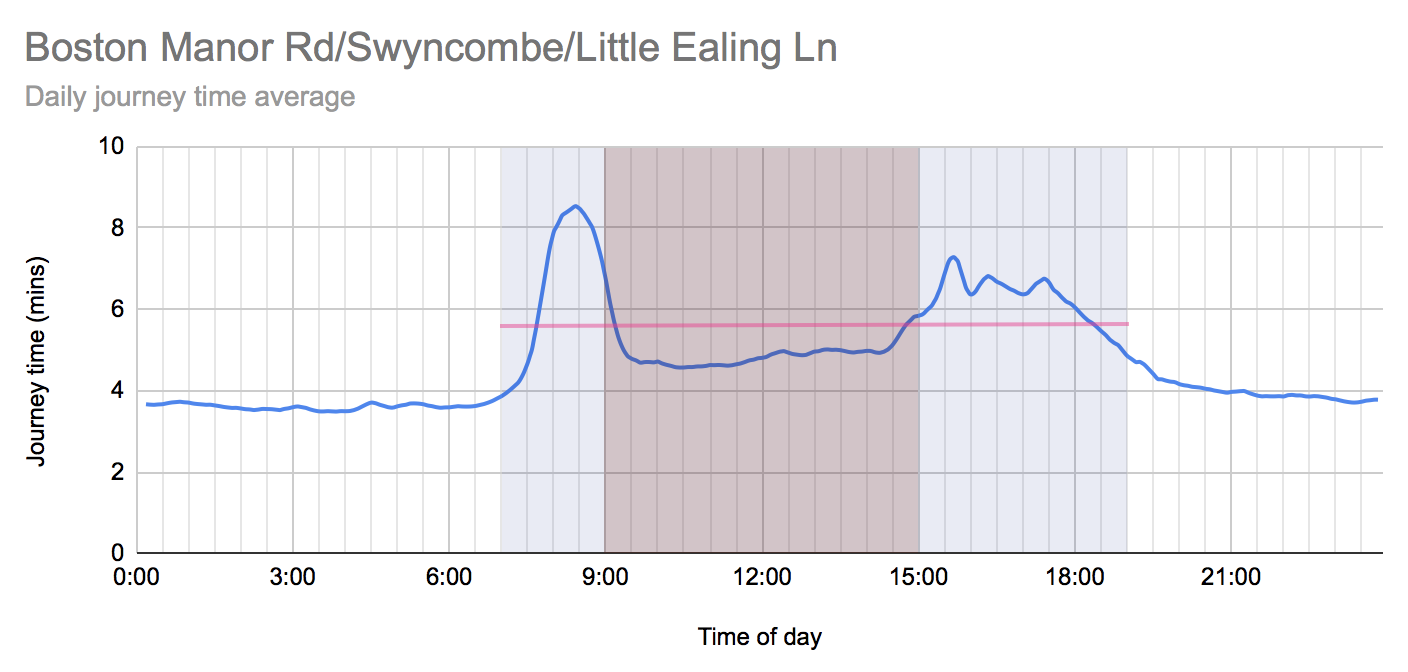 From 7am to 7pm the average journey time was 5m 36s to travel from the bottom of Boston Manor Road (as above, by the GlaxoSmithKline HQ) along Swyncombe Avenue and along Little Ealing Lane to the junction of South Ealing Road, the median 4m 48s, about 1.8km.
As with the Boston Manor Road route there's two peaks at either end of the day that indicate an increase of traffic and a slowing of average journey time.
Here's a video that shows a 5m 25s trip along the Southern boundary that reflects the average journey.
Little Ealing Ln/Northfield Ave
Lastly, here's the Eastern boundary journey times travelling Eastbound along Little Ealing Lane up to to the top of Northfield Avenue where it meets the Uxbridge Road, which is about 2.2km in distance.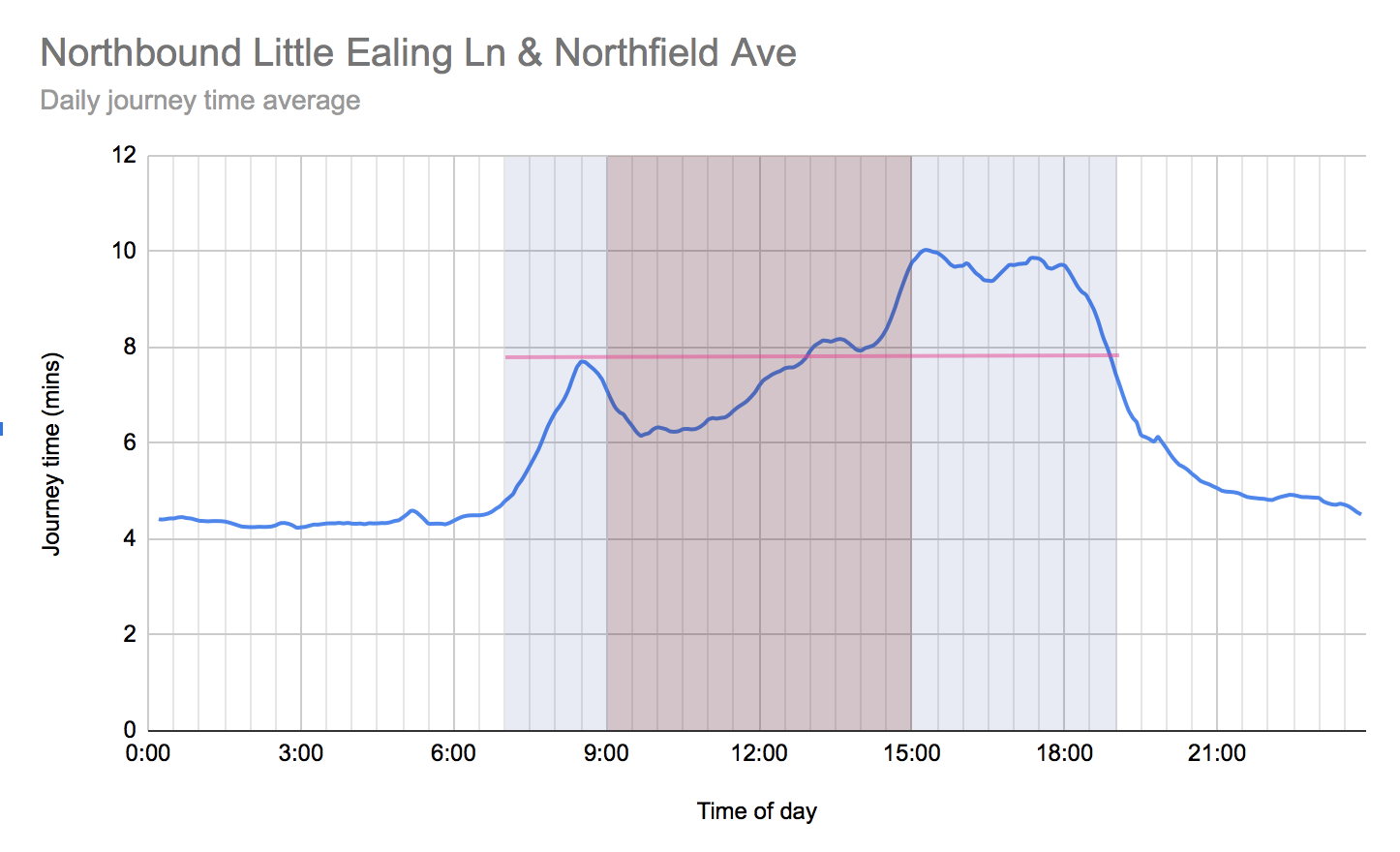 It shows an average of 7m 50s between 7am and 7pm, a median of 7m 15s, and here's a journey of 7m 10s to show what that typical trip might look like.
++
Here's the full summary, from October 6 2020 to November 13 2020.
Route
Average (7am - 7pm)
Median (7am - 7pm)
Boston Manor Rd/
Boston Rd/
Lower Boston Rd
8m 14s
7m 30s
Little Ealing Ln/
Northfield Ave
5m 36s
4m 48s
Little Ealing Ln/
Northfield Ave
7m 50s
7m 15s
Uxbridge Road
5m 2s
4m 44s
++
In part the campaign to remove the LTNs rests on the argument that the surrounding roads are significantly more congested a large proportion of the time, whereas the sat nav data and illustrative car journey videos shown above indicate this is not the case. The roads are busy, as one might expect from an thoroughfare in a large city but traffic flows freely for most of the day.
At the two peak times either side of the day the traffic volume increases and so does the average journey time by a few minutes but arguably this is entirely in line with expectations and historical norms - commuters, school traffic, public transport, taxis, delivery vans and an increase in pedestrian footfall all compete for the same stretch of road at the same time.
It's also interesting to note the bulk of congestion occurs outside of standard school hours, which should give some assurance to those worried about pollution caused by idling cars adjacent to playgrounds, although any traffic is still clearly problematic in this regard.
Where I can I've adjusted my own car trips to account for this and avoided busy times of the day or not driven altogether and used my legs instead, which to be fair to the low-traffic neighbourhood scheme, is their stated objective.